2015 Rotary Zones 25 26 Institute & Luana Concierge Service of Hawaii
Coffee Plantation, History and West Island Rotary Hospitality Tour
Sunday November 1, 2015
Welcome to the west side of the Big Island. Your visit to the Big Island will not be complete without a visit to a world famous Kona coffee plantation and the cultural sites built during King Kamehameha's rule. The West Island Rotarians will be on the bus to show you their projects and talk about what it's like to live in Kona and vicinity. Don't miss this chance to see a bit of Hawaii culture, taste some delicious coffee and share some Rotary fellowship.
Aloha,
Steve Yoshida
PDG5010 '94-'95
We begin our Historical Kona tour after lunch on Sunday November 1, with a pick up at the Hilton Waikoloa Village (lower lobby) at 1pm.  We will travel south into Kona Town, where we will pass by some of Kailua-Kona's most historic sites.  We will take a step back in time as we pass through Historical Kona.  We will begin our journey by passing the Kailua Pier, where you can view Ahuena Heiau, King Kamehameha the Great's personal place of worship that was dedicated to the Hawaiian God Lono. This famous heiau has been expertly restored.  Moving down Ali'i Drive, we pass by Hulihee Palace, a place where Hawaiian royalty called home during certain parts of the year.  This site is now primarily used as a museum that holds ancient Hawaiian Royal artifacts that have been preserved.  Across the street you will see Mokuaikaua Church, built in 1820.  We continue down Ali'i Drive where you will also see St. Peter's Church, a small blue Catholic Church that was erected in the spot where ancient Hawaiians worshiped the gods of the sea.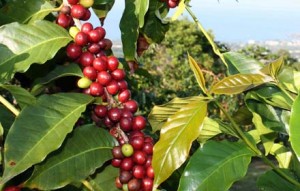 We will stop at a coffee farm and tour a beautiful Kona Coffee Estate with breathtaking views overlooking Kailua-Kona Village and Kailua Bay.  This hands-on tour provides an excellent opportunity to learn more about how coffee is grown in Kona.  You will be able to sample fresh roasted Kona Coffee and stop at their gift shop for unique and interesting gifts made locally.
Our next stop is St. Benedict Catholic Church, often referred to as the Painted Church. Overlooking beautiful and historic Kealakekua Bay, St. Benedict's Painted Church is a fascinating place to visit on your journey to the Big Island of Hawaii.  This Catholic Church has been a part of life in South Kona since 1842. Father Velghe, a self-taught artist, painted the interior walls of the church. His three dimensional interior painting was inspired by the gothic cathedral of Burgos in Spain. His painting of scenes from the bible and the lives of the saints were very important teaching tools in a time when many people couldn't read and write. Throughout church history cathedrals and churches have been adorned with paintings, stained glass windows and statuary that told stories from the old and new testaments and about the lives of heroes from both Hebrew and Christian tradition.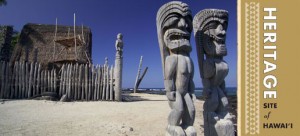 Our last stop is Pu'uhonua O Honaunau, the Place of Refuge.  This national park retells the story of ancient Hawaiian citizens who broke the law and sought sanctuary through the absolution of high priests.  Here you can get a glimpse of how the Ali'i, or chiefs, lived and what a Hawaiian village looked like.
After we depart the Place of Refuge, we will make our way back north towards the Hilton Waikoloa.
When and where to meet for pick up
Sunday November 1, 2015
1:00 p.m. Departs from Hilton Lower Lobby.
Melissa Ramirez (Luana Concierge Service of Hawaii)  1-808-365-2769
Luana Concierge Service of Hawaii  1-808-365-5863