Thursday Reception Entertainment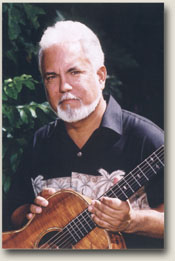 At the Thursday reception, we will be entertained by John Keawe. John is a Grammy and multiple Na Hoku HanoHano award winning slack-key (Kiho'alu) guitarist, composter and recording artist. His music is infused with the spirit of Aloha and is reflective of many elements personal to him.
John performs regularly at various locations on the Big Island as well as other venues throughout the Hawaiian islands and mainland.
In addition, he has recorded several albums, bringing Hawaiian slack-key into the homes of people from around the world.
Saturday Nights Entertainment: The Rough Riders
HENRY KAPONO – JOHN CRUZ – BROTHER NOLAND
INDEPENDENT BY NATURE, CONNECTED BY MUSIC, BONDED BY SKILLS, DETERMINATION & STYLE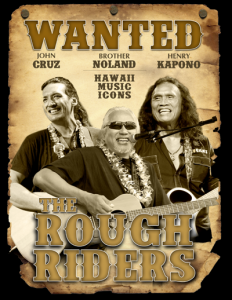 Hawaii Music icons and award winning artists, Henry Kapono, John Cruz and Brother Noland bring to the stage the well-honed craft and power of 3 inspiring songwriters, 3 distinctive voices and the perfect blending of guitars to create an exceptional musical style.
The "Rough Riders" name is inspired by the 1908 Hawaiian Rough Riders (Ikua Purdy, Archie Ka'aua & Jack Low), three Paniolo (cowboys) who combined their skills, determination & style and became World Rodeo Champions. Today's Rough Riders, Henry, John & Brother Noland, have come together to create an exceptional musical style. From their vast catalog of original hits to some of Hawaii's treasured classics to their new sound and provocative collaborations, the "Rough Riders" offer an intoxicating experience of music & legacy.
Henry Kapono
Hawaii music icon Henry Kapono Ka'aihue is a Grammy-nominated singer/songwriter and a multiple (Hawaii) Na Hoku Hanohano award-winner. Also known as "The Wild Hawaiian", Henry has been a leading force in Hawaii's entertainment business for the past several years. Henry is an actor, author and his wide renown includes works from his Columbia Records days as Hawaii's Legendary, duo Cecilio & Kapono; his annual sold out "Back in the Day" concerts at the Waikiki Shell and his well-known "Dukes on Sunday" afternoon concerts at DUKES on Waikiki Beach. Among his many hit songs are "Friends", Sailing" "Highway in the Sun", "Stand in the Light", "Home in the Islands" & "Dukes on Sunday" which was also covered by Jimmy Buffett. HenryKapono.com
John Cruz
Born into one of the great musical families of Hawaii, John Cruz is a Grammy award winning artist as well as a multiple Hawaii Na Hoku Hanohano award-winner. John's musical accomplishments are many; he has performed for the President, is a favorite stage partner of Jack Johnson, was named Best Singer/Songwriter in Hawaii in 2008 by Hawaii Magazine and his album, "One of These Days", and was noted as one of Hawaii's greatest albums of the new century by Honolulu Magazine. Known for his soulful vocals, John is also a "Ki ho'alu" (slack key) master and has distinguished himself with his unique acoustic style. John's hit songs include "Island Style", "Shine On" and "Sitting in Limbo". JohnCruz.com
Brother Noland
Brother Noland is an impactful player in Hawai'i's music scene and one of Hawaii's most respected artists. Credited with the birth of "Jawaiian" (fusion of Hawaiian & Reggae) music, Brother Noland also excels in traditional Hawaiian music, slack key and Hawaiian swing. Honored in 2014 by the State of Hawaii for a "Lifetime Achievement in Music", Brother Noland continually infuses Hawaiian music with creativity and innovation to pave new paths inspiring music around the world. He is also a caretaker of the "aina" (land) and is dedicated to teaching children about how to live off the aina and the ocean through his Hi Educational Programs. Most recently he has authored "Hawaiian Survival Handbook", teaching music and life skills to children and adults. His hit songs have been featured in many major motion pictures and include "Big Ship", "Pua Lane" and "Coconut Girl". BrotherNoland.com