Rotary Zone 25/26
Travel Guide for the Zone Institute
October 29-November 1, 2015
Waikoloa Village, Hawaii
 Make it a vacation! Come early and stay late on the Big Island of Hawaii…
It's easy to feel awed on Hawaii Island. From the molten magma flowing from Hawaii Volcanoes National Park to the snow-capped heights of Maunakea; from the green rainforests of the Hamakua Coast to the jet-black sands of Punaluu Beach; Hawaii Island is an unrivaled expression of the power of nature.
Nearly twice as big as all of the other Hawaiian Islands combined, its sheer size can be inspiring. You'll find all but two of the world's climatic zones within this island's shores.
The dramatic size and scope of the largest Hawaiian Island create a microcosm of environments and activities. On this island's vast tableau, you'll find everything from extravagant resorts and incredible golf courses to modest local towns and sacred Hawaiian historical sites, from the birthplace of King Kamehameha I to Hawaii's first missionary church in Historic Kailua Village (Kailua-Kona).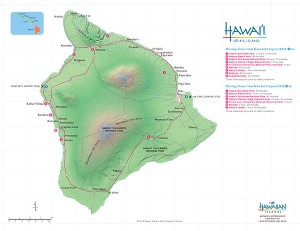 Here is the link to a somewhat interactive TRAVEL PLANNER  VISITORS guide.  It is 60 pages and gives you the sensation  of "leafing through" the document. Quite helpful. This is a nxbook.
http://www.nxtbook.com/nxtbooks/hvcb/hawaii_islandplanner1415/
Here's where you go do download it. http://www.nxtbook.com/fx/save/dbindex.php?book_id=__NXT__9c81f25cb8c2aecd7e960d812cda9dd8&sid=f0e5d045f3a3eeaff105d71fae8a57a9
There is also a ton of great travel information at http://www.gohawaii.com/big-island