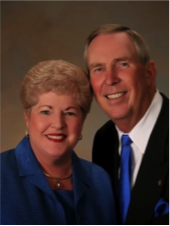 Steve Snyder | Past Rotary International Director | Email
Steve was born in San Francisco on Easter Sunday. He attended General Motors Institute, Flint, Michigan and the University of Washington. After enlisting in the Marine Corps Reserve, he married Sharron in 1966 and is blessed with two children, Susan and Stuart, and three grandchildren.
Steve worked for General Motors until 1974 when he became General Manager of a Chevrolet dealership in Sunnyvale, California. In 1979, he acquired his own Chevrolet dealership in San Rafael, California. After selling his businesses he acquired and still owns a Chevrolet and a Subaru franchise and a Quick Lube Center in Auburn, California.
Steve joined the Rotary Club of San Rafael in 1980 and in 1989 became President. In 1991, he joined the Rotary Club of Auburn and became President in 1998. Steve is a member of the Paul Harris Society, a Major Donor and Benefactor. In Auburn, Steve was instrumental in starting a Rotary Golf Tournament, building a Rotary Conference Room and starting a Christmas Celebration for abused women and their children. Each year the Rotary Club of Auburn awards a perpetual scholarship in his name. Steve was also presented with the Vocational Service Award in 2011.
Steve has served in many capacities for the District including District Conference Chair. He also has served on various committees including the Zone Institute, PETS Instructor, President's Representative, an International Assembly Trainer, Zone Public Image Coordinator and Assistant Regional Rotary Foundation Coordinator.
Steve has twice been a Chamber of Commerce President, a United States National Representative for all Chevrolet dealers, a Community College Foundation Director, a Director for the American Heart Association, a current Director and President of the California Motor Car Dealers Association, President of the Hospital Foundation and a Founding Director for two banks.