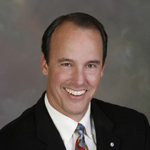 Brad Howard | Immediate Past RI Director | Email
Rotary International welcomes as its new RI Director for 2015-2017, Brad Howard.
Brad Howard is a second generation Rotarian and a charter member of the Rotary Club of Oakland Sunrise. He has served Rotary in many leadership roles including his term as District Governor in the area of California's Silicon Valley in 2002-2003. In 2011-14 Brad served as the North American Chair of Rotary International's Membership Development and Retention Committee and the Zone 26 End Polio Now Coordinator.
As a successful entrepreneur, Brad has created an environment where his work life and his Rotary life intersect. He is President and CEO of Howard Tours, an international tour operator, and Managing Director of Howard Properties, which owns and develops commercial real estate in the San Francisco/Bay Area.
As a tour operator, he has taken thousands of Rotarians to Rotary Conventions and on humanitarian missions. He is also the co-creator of the annual West Africa Project Fair which support the projects of 15 West African nations. Notably, he was made Tribal Chief in the region surrounding Accra, Ghana.
Brad is passionate about Polio Eradication and has led 23 teams and more than 1,000 Rotarians on National Immunization Days. As a result of his leadership and dedication to this effort, he was awarded the prestigious International Service Award for a Polio-Free World, an award given annually to only ten people.
As one of Rotary's most sought after presenters, Brad speaks regularly about leadership, volunteerism and membership. He is regarded as one of the organization's top trainers and has been responsible for training senior leadership during two terms as an International Assembly Training Leader. As one of two global leaders, he also served an unprecedented three terms as International Assembly Seminar Trainer.
Brad is also active in his own community. A graduate of the University of California's Haas School of Business, he has served as Chair of the Alumni Council, the Development Council, and as a member of the Dean's Advisory Council. He is also a past Trustee of the Berkeley Foundation.
For his Rotary service, Brad has received many honors, including The Rotary Foundation Citation for Meritorious Service, the Distinguished Service Award and Rotary International's top personal recognition – the Service Above Self award.
Brad and his wife Marcia share a love of travel, fitness, family and friends. They have two children, son Evan and daughter Blair. Brad and Marcia are Level II Major Donors, and their children are multiple Paul Harris Fellows.