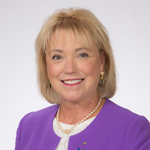 Brenda M. Cressey – Trustee, The Rotary Foundation 
Brenda was invited to join Rotary in 1989 and is a proud member of the Rotary Club of Paso Robles, CA. USA in District 5240. She is recently retired as the CEO of Office Support Systems, a telecommunications business.
She has served in a number of key roles for Rotary International and The Rotary Foundation, in the areas of membership, foundation, leadership training. These opportunities have allowed her to meet, mentor and serve alongside many fellow Rotarians around the globe. Brenda currently serves as a Trustee of The Rotary Foundation and is serving a four-year term on The Rotary Foundation from 2017-2021.
Since serving as Governor in 2001-02, most of her Rotary assignments have focused on successful Fund Development for The Rotary Foundation, specifically in the areas of Polio Eradication, Annual Fund, Paul Harris Society, Endowments, Major and Legacy Gifts. She has enjoyed witnessing several successful outcomes with several Districts she has assisted and advised in these efforts.
Her passion is and has always been to see the end of Polio. This has been her mission and the very reason she joined Rotary. Having participated in a number of Rotary humanitarian projects around the world, she is a proud Rotary Foundation Alumnus. Brenda has seen and experienced, first-hand, how our gifts to the Rotary Foundation greatly impact the lives of others and will someday bring peace and understanding around the world.
She and her husband Dick are members of the prestigious Arch Klumph Society, Major Donors, members of the Legacy and Paul Harris Society and have established the Brenda and Richard Cressey Endowment for Peace.
When asked what the highlights in her life might be, she will not hesitate to say that they involve being a Rotarian. She is the recipient of the RI "Service Above Self Award" and The Rotary Foundation's "Citation for Meritorious Service," and prestigious Distinguished Service Award.
Outside of Rotary, Brenda was honored when nominated as one of President George H.W. Bush's "1000 Points of Light," recognizing those individuals who are making a difference through their volunteer service. She was also awarded Maine Public Broadcasting System's "Jefferson Award for Meritorious Service," and bestowed with the "State of Maine Governor Award for Community Service. She is also a two-time recipient of the American Cancer Societies Volunteer of the Year Award.
Brenda resides in Templeton, California, USA with her husband Richard, retired from a long career as a Vice President in manufacturing. They both enjoy spending time outdoors and traveling and have three wonderful grandchildren.
Brenda can be reached at Brenda.cressey@rotary.org