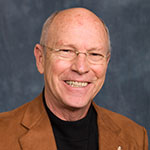 Tim Bewley | Zones Communication Officer | Email
Tim has had careers as a house painter, blacksmith, farrier, construction superintendent, hotel general manager, and hardware store manager. For thirteen years he owned and operated a very successful retail paint business known for its innovative – and funny – print campaigns over the years.
Following his dreams, in 1999 Tim sold his paint stores and moved into the public service sector and broadcasting. He served as the Director of Rogue Valley Community Television at Southern Oregon University. For several years he produced and hosted a monthly show called "People Making a Difference." Another monthly show, "Town Hall," addressed critical community issues. He was the recipient of the League of Oregon Cities Civic Journalism Award "for journalistic efforts in engaging citizens and encouraging the development of good public policy in Oregon."
Tim joined the Rotary Club of Ashland as a third generation Rotarian in 1989. With a goal of membership retention, in 2003 he produced several video episodes of "Rotary Stories," vignettes from his district intended to touch the lives of Rotarians everywhere. In 2004 he was named District Rotarian of the Year. In 2007-2008 he served as district governor.
In the community he is a member of the volunteer Ashland Resource Team that works on emergency planning and staffs the Emergency Operations Center for the city.
He was honored in June 2012 with RI's Service Above Self award. Tim and Carol have no children, and are members of the Arch Klumph Society with their gift directed to the Rotary Peace Centers.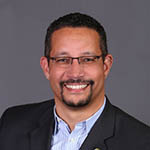 Michael Boyer | Zones Communications | Email
Michael has Rotary in his blood, a fourth-generation Rotarian. Michael's great grandfather, Luther Hodges, was Rotary International President in 1967-68. Michael's grandfather, Mike O'Neil, was a member of the Rotary Club of Anchorage. Michael's father, Clyde Boyer, is a Past District Governor in District 5010, his mother, Vivian Finlay, is a Past President of the Rotary Club of Wasilla and his wife is a Past President of the Rotary Club of Pismo Beach.
The Rotary Club of Pismo Beach, 2001-Present Positions Held: President, President-Elect, Treasurer (3 years), Club Service Director (2 years), Public Relations Chair (8 years), Vocational Service Director, International Service Director (2 years), Club Foundation Vice President & Club Foundation President.
Current Position: Sergeant-at-Arms
Rotary District 5240, 2002-Present Positions Held: Membership Chair (2 years), Website Chair (3 years), Public Relations Chair (3 years), Club Service Director, Communications Committee (3 years), Membership Advisor, PETS Instructor (6 years), PETS Facilitator (5 years).
Current Position: District Public Image Chair
Rotary Zone 26/27, 2015-Present Positions Held: Board of Advisors, Zone 26 Rotary Public Image Coordinator, Assistant Rotary Public Image Coordinator, Keynote Speaker AZ PETS, AZ PETS Instructor, Instructor at Zone Institute 2015, 2016, 2017 & 2018.
Current Position: Communications Committee
Both the San Luis Obispo Tribune and the Pacific Coast Business Times recognized Michael with their "Top 20 Under 40" Award for his professional excellence and profound commitment to the Community.
Michael has been working in executive operations & marketing for 24 years.
Michael lives in Arroyo Grande, CA with his wife and son.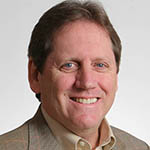 Tom Boylan | Zones Communications | Email
Since joining Rotary in 1997, Tom Boylan's service to Rotary includes more than nine years as a District Public Relations Chair, seven years as a Zone 25/27 Assistant Rotary Public Image Coordinator, and a past president of the Rotary Club of Windsor, California.
He is the owner and Creative Director of The Boylan Point Agency, a traditional and digital marketing company in Santa Rosa, California. Before opening the agency in 1997, Tom had a variety of professional experiences, including a brief run as a music producer and co-owner of a Northern California recording studio. He worked with a Northern California newspaper as the Marketing and Sales Manager, and he spent time working for a radio group as an Advertising Account Manager.
Tom created the agency in the same year he became a Rotarian. The Boylan Point Agency provides online support and print development for a variety of Rotary training materials, and his team is responsible as the Webmaster for both Zone2627.org and Rotary5130.org.
As a former contract writer and editor for several New York Times owned publications, including The Press Democrat in Santa Rosa, it is no wonder his Rotary passion focuses on literacy and education. Tom lives in Windsor, California, with his wife Melody. Their combined families include three sons and four grandchildren.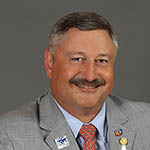 Wulff Reinhold | Zones Communication Officer | Email
Wulff has been a Rotarian since 2005 with the Rotary Club of Rohnert Park-Cotati in Sonoma County, California. He served District 5130 as Governor in 2016-2017. He is a multiple Paul Harris Fellow, Benefactor, Paul Harris Society member and Major Donor. Wulff was his club's Rotarian of the Year in 2008-2009, served as club president in 2010-2011 and twice received his club's Service Above Self award. He has previously served his district as an Assistant Governor, as Abuse Prevention Coordinator, as District Conference Chair and continues to serve as faculty for the district's Institute for Leadership, as Youth Protection Officer and as District Historian. Most recently, Wulff served Rotary Zone 27 as Assistant Rotary Coordinator from 2017 to 2020 and now serves on the Zone 26/27 Communications Team. He is also the multimedia chair and a faculty team member for Far West PETS.
Beyond Rotary, Wulff has served in leadership capacities for the Education Foundation of Cotati & Rohnert Park, the USAF Auxiliary Civil Air Patrol, the Native Sons of the Golden West, and on the Board of Directors for the Rancho Adobe Fire District.
Wulff holds a Master's degree in Public Administration from the University of San Francisco.
Professionally, Wulff is retired after 35 years as a public safety professional, in the field as police sergeant and fire captain, and later as public safety technical consultant and deputy Sonoma County administrator for public safety technology.
Together with his wife Paula, also a Rotarian leader, they have received the Sonoma County Spirit Award from the Board of Economic Development for their personal contributions and leadership qualities that inspire others throughout Sonoma County.
Through Rotary, they've taken part of project trips to Uganda, Africa and Guadalajara, Mexico. They have also participated in a Rotary Friendship Exchange and a polio NID in Gujarat, India.