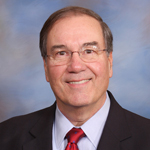 Dave Breeding | 2018 Institute Chair | Email
Dave joined the Rotary Club of Fallbrook in July 1999. His classification is Information Services. He was Club President during 2002-2003.
At the Rotary District level, Dave served as Governor of District 5340 in 2010-2011, the first year the District participated in the Future Vision Pilot. He has served on numerous District Committees and Teams, chairing many. He is currently the District Rotary Foundation Committee Chair.
At the Rotary Zone level, Dave has participated three times on the SoCalNevada Multi-district PETS Committee, and twice on Rotary Institute Planning Committees. He has served as an Assistant Regional Rotary Foundation Coordinator and is currently serving as an Assistant Rotary Coordinator.
Dave retired as the Vice President of Information Systems and Chief Information Officer of Guidant Corporation, a major manufacturer of medical devices. He has a degree in engineering from the University of Illinois and a master's degree from Purdue University. He served as an officer aboard ship in the U.S. Navy.
Dave and his wife, Marilee (also a member of the Rotary Club of Fallbrook), have traveled on two occasions to South Africa to establish relationships with Rotarians there and work together on relief projects for AIDS orphans in the Zulu tribe. Dave participated in a Polio National Immunization Day in India. It was a "Good bye Polio, Thanks Rotary" bumper sticker and Rotary's pledge to eradicate polio that attracted Dave to Rotary – his mother was a polio survivor.
Dave and Marilee live in northern San Diego County. They are active in marriage enrichment ministries in their church. They thoroughly enjoy family time with their two daughters, two wonderful sons-in-law, and six grandchildren (the oldest age 11) – all are Paul Harris Fellows.
Dave and Marilee are multiple Paul Harris Fellows, Foundation Benefactors, Major Donors, and members of the Bequest Society and the Paul Harris Society.