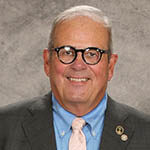 Doug Baker | 2021 Institute Chair | Email
Doug joined the Downey Club in 1989 and was their Centennial President. During that year the Club was awarded numerous distinctions, achieved 100% Paul Harris status and the large Club of Excellence Award.
His service to District 5280 includes Senior Assistant Governor (SAG)-Membership (2006-07) the SAG-Foundation (2007-08) when as part a dynamic team the District ranked number one in the US for annual unrestricted giving for the year and sixth worldwide. He also served as the District Breakfast Chair. In 2008-2009 Doug served as the Executive Aide for District Governor Charles Anderson. He has served as Chairperson for the Paul Harris Society and of course, also served as District Governor for the 2010-2011 and 2013-2014 years. He has received the Rotary Foundation Citation for Meritorious Service and was awarded the highest recognition Rotary International can bestow upon a member, the Service Above Self award.
Married three years to Jaimee, a woman he describes readily as "way over his head" he lives in La Quinta where he enjoys tennis, reading, travel and the company of friends. His most meaningful Rotary moment was the 96 hours he and his daughter, Kelly spent in El Salvador during a wheelchair distribution event. It underscored that indeed we enhance our own lives by making a difference to others, either next door or in another country, one person to another.