An Evening with RI Presidents 2019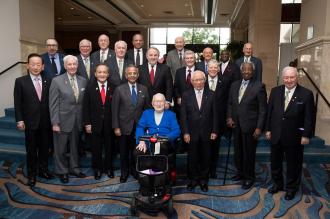 Please join us in Hamburg on Friday, May 31 at the Grand Elysee Hotel for An Evening with the RI Presidents. Cocktails 6 to 7 pm, dinner 7 to 9:30 pm. Cost is $100 per person. Tables will be reserved for specific DG class years so that you can seat near YOUR RI President. Don't delay, we expect this event to sell out quickly. Check the registration list to see which RI President is attending. We will add them as we get confirmations. See who is registered. See list by class.
An Evening with RI Presidents 2018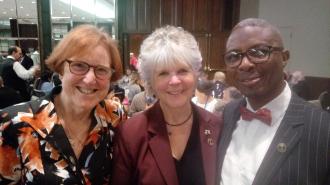 Pictured (L-R) at the 1st annual Dinner with the Presidents held June 22, 2018, in Toronto, ONT, Canada is Rotary PDGs Fellowship board member Johrita Solari, PDGs Fellowship president Ann Lee Hussey, and PDGs Fellowship member PDG Saliu Ahmed, Governor in D.9125 (Nigeria) in 2007-08. Photo by Martin Limbird.
Information on PDGs Reunion has been moved to a separate page. Please send us updates of your reunions to be featured on this page. Check this page for announcements of upcoming reunions.
The purposes of the PDGs Fellowship, as stated in the bylaws, are as follows:
The primary purpose of the fellowship is to improve and enhance the existing friendship and fellowship among Rotarians who have served as district governors by increasing the number of reunions and similar events at all levels of Rotary, including the annual conventions. The secondary purposes are to provide additional opportunities for past district governors to remain actively involved and connected at the international level of Rotary and to motivate past district governors to support important Rotary activities, such as PolioPlus, TRF fundraising, international service projects, and membership growth.