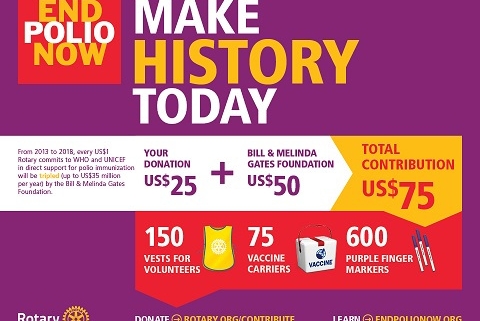 FREE WEBCAST!!!
How is your club or district celebrating World Polio Day?
Polio was eradicated from the United States and Canada many years ago. Even though it has left our shores, this highly infectious, devastating disease is still endemic in three countries. As long as polio exists anywhere, children everywhere are at risk.
Join this webcast to learn more about how you and your club can continue to create more awareness, raise funds and celebrate World Polio Day October 24.
Be part of Rotary's most important legacy!
Please register for the webinar: World Polio Day is October 24: How can your Club participate and create awareness for polio eradication? on Oct 02, 2018 6:00 PM PDT at the link:
https://attendee.gotowebinar.com/regist…/5512994576079348482
After registering, you will receive a confirmation email containing information about joining the webinar.
This webinar is brought to you by Zone 25 & 26 Public Image and Rotary Foundation teams and will be conducted by Michael Soden and Wyn Spiller.
Additional information and resources from Rotary are listed below
Questions? Please contact:
Vicki Puliz
Rotary Public Image Coordinator, Zone 25
vickipuliz@puliz.com