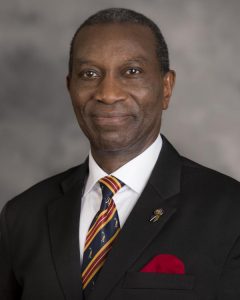 Dear fellow Rotarians,
There has been an outpouring of heartfelt messages since President-elect Sam's passing last week. Rotarians and members of the public have been sharing memories and recalling how Sam inspired them through his hard work as a Rotarian and as a dedicated civil servant. It is clear that his impact and legacy were felt worldwide.
Visitation will take place on Friday, 21 July 2017, from 9:00am – 7:00pm, at the Bedford Memorial Funeral Home, 524 Bedford Rd., Bedford, TX 76022 (Phone: 817-508-0418). Church services will follow on Friday at 7:00-9:00pm at St. Vincent's Cathedral, 1300 Forest Ridge Dr., Bedford, TX 76022. Funeral services in Kampala are being planned for later this month. More details will be released on those arrangements once confirmed.
Sam was a member of the Rotary Club of Kampala, Uganda. He is survived by his wife Norah, his sons Adrin Stephen, Bonny Patrick, Daniel Timothy, and grandchildren Kaitlyn, Sam and Adam. Condolences may be addressed to Mrs. Norah Agnes Owori, c/o Institute of Corporate Governance of Uganda (ICGU), Crusader House, Plot 3 Portal Avenue, Kampala, Uganda or via email to: sam.owori@rotary.org.
Memorial contributions in honor of Sam will be directed to the Sam F. Owori Memorial to Polio. This fund has been established to honor his commitment to Rotary's polio eradication efforts. Sam was a member of both the Africa Regional PolioPlus Committee and the International PolioPlus Committee. You can make online contributions to the fund here.
The 2017-18 nominating committee will select a new president-elect, in addition to the president-nominee, during its scheduled meeting in early August.
Thank you all for your continued support during this difficult time.
Sincerely,
Ian Riseley
Rotary International President, 2017-18
Rotary remembers Sam Owori https://www.rotary.org/en/rotary-remembers-sam-owori
https://zone2627.org/wp-content/uploads/2019/06/2627_Colored_WP_Logo.jpg
0
0
adminbpa
https://zone2627.org/wp-content/uploads/2019/06/2627_Colored_WP_Logo.jpg
adminbpa
2017-07-19 16:54:31
2018-11-02 19:38:47
Saying farewell to RI President Elect Sam Owori