CHANGING LIVES: ONE CHILD AT A TIME
A ZONE 25/26 YOUNG PROFESSIONALS PRODUCTION
Leader And Admin Assignments
FRIDAY SERVICE PROJECT at the 2016 ZONE INSTITUTE
Santa Barbara, CA
November 11, 2016
The Changing Lives: One Child at a Time event will commence with the welcoming of the official Connecting for Good Tour RV and crew at The Fess Parker DoubleTree at 7:30 am on Friday, November 11th. The day's activities will then continue with three service projects followed by a celebration luncheon for all event participants at the Westside Boys & Girls Club location. After the event, all participants will transported back to The Fess Parker Doubletree no later than 3:00 pm.
Don't forget to indicate your T-shirt size on the survey. Pick up your shirt at Concierge desk during the institute. WEAR YOUR SPECIAL FRIDAY PROJECT T-SHIRT ALL DAY FRIDAY!
Schedule Summary
Thursday, Nov 10th
4:30 pm – Team Leader Training Session 1 (Team Leaders must attend only one session)
Friday, November 11th
6:30 am – Team Leader Training Session 2 (Team Leaders must attend only one session)
7:00 am – Grab-and-Go breakfast for participants in the Fess Parker Plaza del Sol Pavilion
7:30 am – Welcome of the Connecting for Good RV outside the Plaza del Sol Pavilion
8:00 am – Participants working at Westside and Goleta Boys & Girls Clubs depart
8:30 am – Work commences at all locations
11:30 am – Wrap up work at all locations; all transported to the Westside Boys & Girls Club
12:00 pm – Celebration luncheon starts at Westside Boys & Girls Club
1:45 pm – All participants transported to the Fess Parker by 3:00 pm
Do I need to bring tools?
It's not necessary to bring tools but feel free to bring work gloves or any other items you think would be handy.
What should I wear?
Other than comfortable work clothes, all participants should wear their Connecting for Good project T-shirt which will be available for pickup at the Fess Parker concierge desk starting Wednesday, November 9th. Those who completed the project survey will receive the shirt size indicated in the survey response. All efforts will be made to provide those who did not complete the project survey with the desired shirt size however exact fit cannot be guaranteed.
Website and Social Media
Learn all about the Tour at http://zone2627.org/tour/ or follow the social media action at:
Facebook – rotaryzones25.26
Instagram – rotaryconnectingforgood
Twitter – @zone2526
And everyone is encouraged to post their own pictures and stores on each of these sites using #rotaryconnectingforgood.
Waivers
All participants at the event on Friday will need to sign two waivers. One is a media release form required by Rotary International, and the other form is a media/liability waiver from our Rotary Zone. Rotary International is sending a photographer from the broadcast media department and is requiring anyone who is photographed for this event to sign a waiver.
One of the waivers will be attached to an FAQ page you will receive at registration. This waiver will need to be signed and returned prior to the Friday service event. There will be a box at the registration desk for the waivers. The second waiver will be given to participants on the buses as they depart for their respective sites. We will have people sign these on the bus prior to your arrival at the site.
Lunch Program
A program to honor our veterans and celebrate the day's work and the Connecting for Good Tour will take place at the Westside Boys & Girls Club. Pizza (with a gluten free option) and soft drinks will be provided.
How do I help support the backpack project?
To sponsor a backpack or multiple backpacks, please go to this link to sponsor or donate:
https://www.generosity.com/education-fundraising/new-backpacks-for-students-in-santa-barbara/
If you want to bring supplies, here is a list of items that are needed:
Pencils, paper, folders, erasers, backpacks
Transportation and Logistics Overview
Bus transportation will be provided to and from each location for all participants from Fess Parker Doubletree only. Transportation Coordinators will be located at each location to help facilitate efficient and timely loading of the buses.
If you have special transportation needs, please contact Ryan Clements at ryan.clements@acicms.com.
Project Locations (for reference only)
Westside Boys & Girls Club
602 W Anapamu St, Santa Barbara, CA 93101
(805) 845-4412
Goleta Boys & Girls Club
5701 Hollister Ave, Goleta, CA 93117
Phone(805) 967-1612
Fess Parker Doubletree (backpack project)
633 E Cabrillo Blvd, Santa Barbara, CA 93103
(805) 564-4333
Where do I go for more information about the service event?
If you have more questions about the service project, please direct them to Project Coordinator, Ryan Clements, at ryan.clements@acicms.com.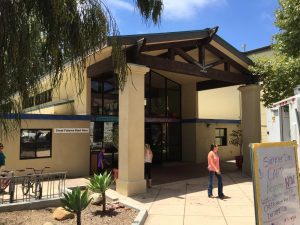 VOLUNTEER OPPORTUNITIES
There will be two types of work activities: 1) a backpack-stuffing project which will be held at the Fess Parker Doubletree Resort and 2) several hands-on renovation projects at Santa Barbara-area Boys & Girls Clubs.
All Institute Attendees will receive an email with a link to a survey. This is where you indicate what you want to do/can do.
Why is this important? We need to have the work assignments and locations determined before you arrive at the Institute. That informs the team leaders, those providing supplies, transportation and more. To have a smooth and productive stay, it needs to be planned.
The Survey
3 things to know about the survey:
We need to know what you want to do in order to be ready for you on Friday! We ask that All Zone attendees fill out the survey IF you want to volunteer for the Friday service project.  This means that spouses/partners need to fill a separate survey out as well.  If you have filled out a survey and only included your spouse's/partner's name in the comments, please have him/her fill out a separate survey.
The email address that you used to register for the Zone Institute will be the same email address where you will receive the survey.  If you registered your spouse under your email, then you should receive two survey emails. One for you and one for your spouse.
As we receive the information and requests for volunteer opportunities, we will determine the locations for all of the volunteers.  Those who have indicated medical reasons to stay at the Fess Parker Hotel are guaranteed a spot at that location. All other volunteers will be placed at their preferred location until we reach capacity at that location.  Unfortunately, we have limited numbers at each location so we can't guarantee everyone's first choice for a project.
What if you haven't received a survey? You may submit one by simply following the link below or contact Danielle Lallement at danilynnl75@gmail.com for more information.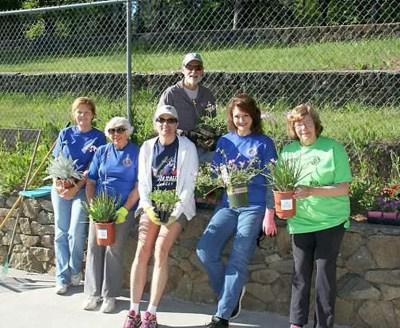 Here are the current volunteer options:
It doesn't matter to me, I'll do whatever is needed
Transportation Coordinator (help with corralling and directing volunteers)
Painting (you either love it or hate it)
Computer and printer experience (for a book labeling project)
Exterior work (landscaping, mulching, light clearing, etc…)
Pressure washing
Interior cleaning
Assembly of wood storage shelving (requires experience with screw gun and furniture assembly)
Supply Runner (providing supplies to keep work crews moving)
Hospitality Runner (providing snacks and drinks to work crews)
Team leaders & transportation coordinators
More work and schedule details will be issued a couple of weeks prior to the event.
We anticipate 3 levels of lifting:
Light duty (no lifting or very light lifting)
Moderate duty (lifting of 10-15 lbs)
Heavy duty (lifting > 25 lbs)
While most jobs will be relatively light duty, a few project roles may require a moderate amount of labor or lifting.
What to wear?
The point of hands-on service is to get sweaty, right? Be sure to wear comfortable clothing and shoes that you don't mind getting dirty and (for painting work) potentially stained with paint. Historically temperatures average from 45 to 69 degrees.
Questions?
Please direct any questions for the Friday service project to Zone 25/26 Young Professional Program Chair Danielle Lallement at danilynnl75@gmail.com.