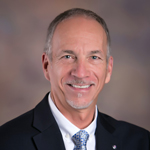 Michael Juric | Education Chair | Email
An active member of the Rotary Club of Windsor, Michael has been a Rotarian for more than 20 years. In addition to serving as District Governor in 2012-2013 and Club President in 1999-2000 and 2007-2008, he served as District 5130 Assembly Chair, District Chair of the Group Study Exchange (GSE) Program, Assistant Governor and Chief Assistant Governor. In 2008-2009 he was named District 5130 Rotarian of the Year. Michael is a Paul Harris Fellow (x7) and a member of The Rotary Foundation Bequest Society.He currently serves as Curriculum Chair for the Far West President-Elect Training Seminar (PETS) and as Education and Training Chair for Rotary Zones 25 and 26.
Professionally, Dr. Juric is an experienced teacher, school district administrator, college professor and consultant providing facilitation and training services. He currently serves as Assistant Superintendent for Human Resource Services with the Sonoma County Office of Education.
Locally, Michael has been a trainer for the California School Leadership Academy (CSLA) and an active professional and community leader, including serving as Co-Chair of the Town of Windsor's General Plan Advisory Committee. He holds multiple teaching credentials and degrees, including a doctorate in Educational Leadership.
Michael is the proud parent of four adult children and the lucky grandfather of five.