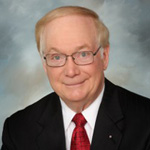 Paul Netzel | Trustee | Email
Paul is founder and chair of NETZEL GRIGSBY ASSOCIATES INC., a leading management consulting firm specializing in work with nonprofit organizations and institutions throughout the western USA. He and his company received the "Entrepreneurial Spirit Award" by the Los Angeles Area Chamber of Commerce for being an "outstanding example of the entrepreneurial spirit of our region." Paul served as mayor of Culver City and president of Culver City's Board of Education in the 1970s-1980s.
He has held leadership positions on numerous local and national professional societies and not for-profit boards, including AFP, the Boy Scouts, Goodwill Industries, United Way, YMCA, and the advisory boards of Habitat for Humanity and the Auto Club of Southern California.
A Rotarian since 1968 with 47+ years perfect attendance, Paul has held numerous Rotary leadership roles. In addition to those noted above, Netzel has served as International Assembly moderator and chair, RI training leader, zone institute chair and convener, delegate to three Rotary Councils on Legislation, task force zone coordinator and as chair of numerous Rotary committees.
Netzel has received The Rotary Foundation's Citation for Meritorious Service. Both Paul and his wife, Diane, are charter members of the Arch Klumph Society, Major Donors, and Paul Harris Society and Bequest Society members of The Rotary Foundation.