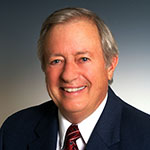 Rod Belton | Membership Advisory Chair | Email
Rod Belton was invited to join The Rotary Club of Salinas Steinbeck in January 1989. His classification is Telecommunications. He served as Club President in 1994-95.
During the year he served as Club President, the Salinas Steinbeck club was recognized as the district's "Club of Excellence" and Rod was recognized as the "Most Outstanding President" in District 5230.
At the Rotary District level, Rod served as District Governor in 2003-04. He has served on numerous District Committees; chairing or co-chairing eighteen. In 2007 he served as the District 5230 delegate to the Rotary International Council on Legislation in Chicago.
At the Rotary Zone level, Rod served multiple times as a leadership instructor at the Northern California multi-district PETS. He has served on four Rotary Institute Planning Committees and served as General Chair for the Zone 25/26 Rotary Institute held in Monterey in 2009.
Currently Rod serves as Rotary Coordinator for Zone 26 assisting districts in central and southern California, Arizona and Hawaii. Rod also served on the 2012 Bangkok Convention Promotion Committee with promotion responsibilities for Zones 25 and 26 and he planned and coordinated the Zone 25/26 Reception in Bangkok.
A native of California, Rod and Nancy make their home in the foothills between Salinas and Monterey with their two rare breed Anatolian Shepherd dogs. He is a general partner in the telecommunications firm of TOTLCOM Inc. and fulfills responsibilities of administration and finance. In February 2013 Rod and Nancy celebrated their 39th wedding anniversary. They have two grown daughters, one son-in-law and three granddaughters – all Paul Harris Fellows.
The Rotary Foundation Board of Trustees has presented Rod with its Citation for Meritorious Service.