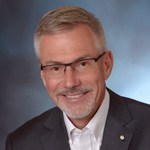 Steve Lingenbrink | Membership Advisory Chair | Email
Steve Lingenbrink served as Rotary International District Governor (D5030) in 2012-13. Previously he served as the President of the Bellevue Breakfast Club (2005), Assistant District Governor (2006-08), Executive District Governor (2008-09). While Steve was serving as District Trainer in 2009, he was selected as the District Governor Designate. More recently Steve was an Assistant Rotary Coordinator for Zone 25 (2013-15), Zone 25/26 Membership Chair (2015-17), District 5030 Council on Legislation Representative2016 and 2019. July 1, 2018, Steve will become the Zone 25 Rotary Coordinator. On the Education side, Steve serves on the faculty of GNATS/GETS (Z25/26), Rotary Institute, PNW-PETS, Far-West PETS, Southwest PETS, as well Training Leader at International Assembly (2017 and 2018).
Steve is frequently featured as a presenter and keynote speaker in all 22 districts of Zones 25 & 26. He and his wife Terri, along with their grown children Sarah-Grace and Shine, have both led and served on many international projects all over the world, including an NID in Ethiopia, water projects in Kenya and Guatemala, Computers for the World in Antigua-Barbuda and medical dental clinics in Romania and Russia.
Steve is an attorney with over 35 years of experience. His wife Terri works alongside him as the Director of Operations for the firm. (www.lingenbrink.com). When not serving Rotary International, Steve and Terri love to travel, collect wine, and ride his Harley Davidson. Terri was a member of the Seattle 4 Rotary Club, and now enjoys the position Education Chair for Zone 25/26 Partners Program supporting GNATS and GETS partners; She was also a Partner Leaders Coach for International Institute 2018. Steve and Terri are Major Donors, Bequest, and Paul Harris Society Members.