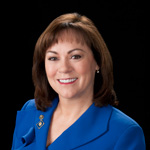 Vicki Puliz | Rotary Public Image Coordinator for Zone 25 | Email
Vicki Puliz is honored to serve as Rotary Public Image Coordinator for Zone 25 starting July 2016 and working with a team of incredibly talented public image professionals. Vicki enjoyed a successful career as one of the owners of a large commercial electrical contractor in Northern Nevada. She is a graduate of the University of Utah with a B.S. in Marketing and a Master's of Business Administration.
She joined the Rotary Club of Sparks in 1992, was Club President in 2004-2005, District Governor of Rotary District 5190 in 2013-2014, and has served her District in a number of roles such as Rotary Youth Leadership Awards (RYLA) co-chair, Youth Service Chair, and District Trainer. Vicki loves being involved with rising Club Presidents and District Governors as part of the faculty for President Elect Training at Far West PETS and Governor Elect Training, and continuing to support these amazing leaders in their Rotary journeys.
Vicki and her husband, Tim, are Major Donors to The Rotary Foundation and active members of the International Fellowship of Flying Rotarians.
Vicki and Tim are blessed with a blended family of 7 adult children and 8 grandchildren.
---
Zone 25 Assistant Public Image Coordinators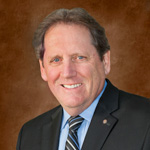 Tom Boylan | Assistant Rotary Public Image Coordinator | Email
Tom Boylan is the owner and creative director for the Boylan Point Agency in Santa Rosa, California. The agency is a full service marketing company providing consulting, media production, web design and web marketing.
A graduate of Sacramento State University in Communications & Journalism, Boylan has more than 35 years of marketing and media experience. His work includes marketing, sales management and media production for newspaper, television and radio. Tom's creative writing skills have been widely published in both web and print, including ten
years of writing and editing several weekly columns and award winning special sections for the New York Times owned Press Democrat in Santa Rosa, California.
Boylan is a member and past president with the Rotary Club of Windsor, Ca. He has served as District 5130 Public Relations Chair since 2008. In 2013 he was invited to serve as Zone 25 assistant Rotary Public Image Coordinator.
---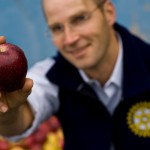 David Bobanick | Assistant Rotary Public Image Coordinator | Email
David has more than two decades of experience in non-profit management. Since David joined Rotary First Harvest in 2001, the organization has quadrupled the amount of produce collected and distributed annually and significantly expanded RFH's strategic impact at the local, national and international levels.  David has developed Rotary-based hunger relief programs in other states and countries and serves on several state, national and international committees focused on agricultural development and hunger response initiatives, including serving as President of the Rotarian Action Group for the Alleviation of Hunger and Malnutrition.

David participated in the inaugural Non-Profit Executive Leadership Institute at the Evans School of Public Affairs at the University of Washington as well as Executive Leadership Institutes at Stanford University's School of Social Innovation. David has guided several non-profit organizations in the development of long-range strategic plans, and serves as a board officer for four local and statewide non-profit organizations.
David currently serves as District Trainer for Rotary District 5030, just finished his second term as an Assistant Governor, is Past President of the Rotary Club of Mercer Island and is an Assistant Rotary Public Information Coordinator for Zones 25/26.
---