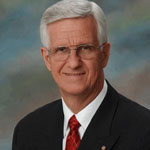 Jerry Hall | Endowment / Major Gift Adviser | Email
Jerry has been a member of the Rotary Club of Reno since 1977, served as president in 1987-88 and District Governor for the 74 club District 5190 in 1993-94. He has served as a Zone District Governor discussion leader, Far West Multi-District PETS Instructor and Curriculum Chair, and served as General Chair for the 2001 Zone 23/24 Zone Institute. Jerry has served as delegate to the Council on Legislation in Chicago in 2001 and 2004. Jerry and his wife Tasha participated in a National Immunization Day in Ghana, West Africa in 2000, an orphanage project in Oradea, Romania and a rural hospital project in Uganda in 2006, a house-build project in Mexico and just completed leading a Vocational Training Team to Uganda. Jerry served as RI Director (2005-07) and Vice President (2006-07) and was assigned as a special advisor to the RI Strategic Planning Committee and liaison to the Rotary Foundation Future Vision Committee. He served as Chair of the RI Vocational Service Committee 2007-2010, is now a zone Endowment/Major Gift Advisor and Chair of the RI/TRF Joint Committee on Alumni Relations.
Jerry is the recipient of the Rotary International Foundation Citation for Meritorious Service and the RI Service Above Self Award. Jerry and his wife Tasha have hosted 13 exchange students including a second generation student, the son of a student hosted 22 years earlier. He and his wife Tasha are major donors and members of the Bequest Society. Their son Mike, an electrical engineer, and eight of their exchange students are also Paul Harris Fellows. Jerry recently made six individuals in Uganda PH Fellows in conjunction with development of the Uganda Nursing School, Bwindi.
Jerry has over 40 years active involvement in the transportation industry and served as Executive Director of the Regional Transportation Commission of Washoe County from 1977 until 1993. After his retirement as Executive Director, the RTC renamed the 7 acre RTC administrative and operations complex the Jerry L. Hall Regional Transportation Center. Jerry was a registered Civil Engineer in Nevada and Arizona and has worked as a civil engineering and management consultant.
Jerry has been active in his community and has served in a number of leadership roles including the YMCA Board of Managers, United Way Campaign Cabinet, Reno Philharmonic Board of Directors, Washoe County District Board of Health, Reno Sparks Convention and Visitors Authority and is currently past chair and member of the Reno Tahoe Airport Authority. He is a recipient of the University of Nevada President's Medal for service to the community and higher education.
Jerry brings his broad range of experience to work for you and your district as part of his Endowment/Major Gifts Advisor responsibilities. "My job is to help you develop your districts major gift effort and we can do that through training your team and working with you and your donors. The end result is your district's total giving numbers will go way up and you will have more satisfied district donors."