Connecting for Good – Honolulu
The Biggest Rotary Roadtrip on the West Coast!
Rotary's Connecting for Good Tour gets started in Honolulu on October 29, 2016.
The West Oahu Family Fun Day 
Our Partner Organization is Hale Pono Boys and Girls Club and as in ohana tradition, there will be many wonderful sponsors at our Family Day to make our Family Fun Day and the Connecting for Good Kick Off an event you don't want to miss!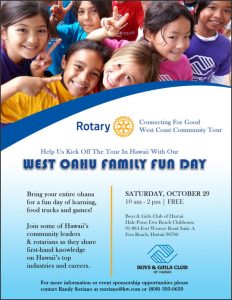 So on October 29th, help us kick off the Connecting for Good West Coast Community Tour with our West Oahu Family Fun Day! Bring your entire ohana for a fun day of learning, food trucks, and games! Join some of Hawai'i's community leaders and Rotarians as they share first-hand knowledge on Hawaii's top industries and careers.
Come join us for:
Keiki Vision – Rotary club will be testing kids and making sure their eye site is okay
Keiki ID – The Honolulu Police Department will be making fingerprinted IDs for the kids

Lemonade Alley – Don't forget to stay hydrated, have some refreshing lemonade from Lemonade Alley
Many other local sponsors, Rotarians and non-Rotarians giving of their time and talent
Kids will enjoy the day with:
Honolulu Fire Department's fire engine for kids to explore
Walking Magician will entertain the kids with magic tricks
Balloon Sculpture who makes awesome and intricate balloon art
Hawaii Bowls food truck serves some yummy revese musubi bowls for lunch
Kona Ice – no event is complete with out shaved ice!
Entertainment from the Boys and Girls Club and other performances by Hula Halau and taiko group, Na Hoku award-winning artists, an Ilima Intermediate School performance, and much more!
Here's where and when:
Boys & Girls Club of Hawaii, Hale Pono Ewa Beach Clubhouse, 91-884 Fort Weaver Road, Suite A, Ewa Beach, HI 96706
Time: 10:00 am – 2:00 pm
Mahalo to the many Oahu Rotary Clubs for their support and Aloha of the Connecting for Good Project.  Please visit our page and click on the Clubs' link to visit their wonderful website!
Honolulu Rotary Team Lead Laine Kohama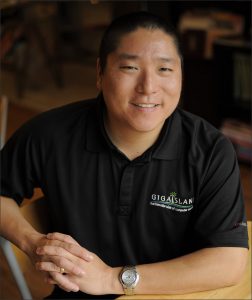 Laine Kohama is a charter member of the Rotary E Club of Hawaii, and past President of the club. He serves as the club's Treasurer and International Service Chair. Currently he is on the District leadership team, the Districts' SAA, a future AG, District Conference Chair for 2019, and District RI Convention team for 2020.
Laine says he's been blessed to be a part of last year's Young Professionals Summit in Berkeley. Laine has owned a computer company called Gigaisland for 13 years, and is a member of BNI. When he's not busy working, doing Rotary, or BNI, he is training for the marathon, enjoying a glass of scotch or bourbon, and most importantly spending time with his beautiful wife Joni, and his wonderful son, Lennon.
Laine says "Rotary is a blessing and a great joy. I'm grateful to be giving back to the community and working with many like-minded individuals here in US, and around the world. Aloha and Mahalo to Brad, Danielle, and Mari for the opportunity to support the community, and share Rotary with them!"
Email Laine at gigaisland.rotary@gmail.com
Connect with Laine on LinkedIn https://www.linkedin.com/in/lainekohama
Follow Laine's Twitter https://twitter.com/gigaisland
Stay in touch on Facebook https://www.facebook.com/lkohama