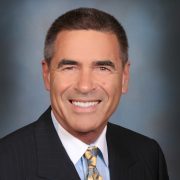 Brad Robinson | Rotary Coordinator | Email
Brad is a past District Governor and DRFC Chair of District 5280, and past PETS Chair for the SCA/Nevada PETS. He was the Operations Division Chair for the Hawaii Institute and the Programs Division Chair for the Victoria Institute. He also served on the Phoenix and Lake Tahoe Institute committees and as an Assistant Rotary Coordinator for Zone 26.
Brad has been part of the GETS Faculty and was a member of the West Coast Sydney Registration Committee, and was the Zone 25/26 registration chair for the Hawaii Peace Conference. He is a member of the Beverly Hills Club, and his profession is commercial/residential property management. He has served on several committees for the City of Beverly Hills and as the Chair of their Traffic and Parking Commission. He and his wife Catherine live in Marina del Rey, and his business offices also are located there.
---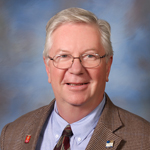 Chuck Fitzgerald | Assistant Rotary Coordinator for Districts 5495, 5500 | Email
Chuck Fitzgerald, as the Executive Director of Vineyard Community Charities, provides leadership for an organization that serves the poor and vulnerable in Glendale and surrounding communities. Prior to this position, he served as the Director of the Governor's Office of Faith and Community Partnerships for the State of Arizona(2007-2015) where he led the State of Arizona's faith initiatives and served as a member of Arizona's Human Trafficking Council. Prior to working for the state, Chuck spent 20+ years as a sales professional specializing in multi-million-dollar software solutions for call centers. He is the founder of the Children's Heart Gallery and Arizona Blue Ribbon – both supporting Arizona children in foster care.
When he is not at work, Chuck is in the community helping others. He has served on many local nonprofit Boards, to include: Neighborhood Ministries, 2-1-1 Arizona, City Serve Arizona, Communities in Schools, Leadership West, Shoebox Ministries. He currently facilitates the Arizona Faith Council and the West Valley Human Services Alliance, and he serves as a regional First Things First council member.
He is a long-time member of the Peoria Rotary Club, and he helped to "Light Up Rotary" when he served as Governor for District 5490 in 2014-15. He is a Board member of The Ethics Initiative and of the Rotarian Action Group Against Slavery. He leads the Peoria Peace Initiative, the Annual Arizona Rotary Water Summit, and is the incoming Dean of Arizona's Rotary Leadership Academy.
Chuck and his wife Susan have been Arizonans since 1992. They are active members of Vineyard Church North Phoenix. They have three adult children, six grandchildren, and a rescued retriever-shepherd mix named Moses.
---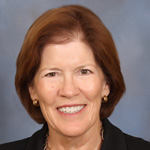 Louise Andres | Assistant Rotary Coordinator for Districts 5280,5320, 5340 | Email
Louise majored in chemistry and math in college, and had a career in the computer industry, with jobs as a programmer, systems analyst, project manager, systems engineer and more. She worked for NASA, then worked for IBM for 28 years, in sales, consulting and executive management, and retired as a director for IBM in 2005.
With a classification of Business Consulting, Louise joined the La Jolla Golden Triangle Rotary Club in 2002 and was president in 2009-2010, as well as district governor of District 5340 in 2014-2015.  Her husband, Steve, is a member of the Miramar Club. She and Steve have committed to Paul Harris Society and are major donors.
Louise started and chairs the Friendship Exchange program for the district, and has hosted scholars, Rotarians from around the world, exchange students and more. They have been to district conferences in Turkey, South Africa, and India, where they participated in a NID.
At the Rotary Zone level, she participated three times on the SoCal-Nevada multi-district PETS Committee and is currently on the Rotary Institute Planning Committee, and on two membership/diversity teams. She will be taking over strategic planning for the zone. She has helped 3 districts and 45+ clubs create strategic plans. She also has taught leadership and strategic planning at GNATS/GETS.
Steve and Louise live in La Jolla, California. They like hiking, traveling, and sailing. They have two children, both are married, and have given us 3 of the cutest grandchildren in the world.
---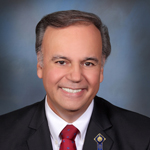 Joe Ramos | Assistant Rotary Coordinator for Districts 5240, 5300, 5330 | Email
Joe joined the Rotary Club of Lake Arrowhead in Southern California in 2004 after retiring in 2001 as Associate Director of the National Aeronautics and Space Administration (NASA) Dryden Flight Research Center at Edwards AFB, California. During his 34 year service, he also held senior positions at the Pentagon, Air Force Flight Test Center, and an Adjunct Professor for 10 years at 3 Universities teaching graduate and undergraduate Engineering and Management courses.
Joe became Club President in 2007-08 and was awarded "Best Club in the District." As District Governor in 2013-14, he was awarded a trophy for the greatest percentage membership growth in Zones 25/26. This was after years of declining membership and being the last place in both zones in membership growth. He also led both Zones in Every Rotarian Every Year and numerous other records and many "firsts" within his district.
He is currently on the Chair of Administration of Zone 25/26 Governor-Elect Training (GETS)/Governor Nominee Training Seminar (GNATS), Southern California/Nevada PETS, Chair of the Rotary Rose Parade Float, 2018 Zone 26 Assistant Rotary Coordinator, and other positions. He has been married to his wife Jeanne for 49 years. They have 2 children and 6 grandchildren. Joe and Jeanne are Major Donors, Multiple Paul Harris Fellows, Members of the Paul Harris Society and Benefactors.
Joe has a BS in Physics from the University of San Francisco, MS in Electronic Engineering from University of Southern California, and an MS in Management from Stanford University as a Sloan Fellow.
---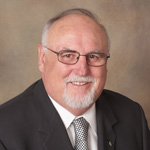 Joe Hamilton | Assistant Rotary Coordinator for Districts 5170, 5230, 5220, 5000 | Email
Joe is a member of Cupertino Rotary in District. In 2012-13 he served as District 5170 Governor. Since being Governor, Joe has chaired several major district committees including the District Membership Committee last year. Besides currently serving on his club and district Membership Committees, Joe is a member of the 5170 Nominating Committee, Focus on the Future Committee and District Finance Committee.
Joe holds a Masters Degree in History from San Jose State University and was a high school teacher, coach, Principal, and administrator during a 38-year career in education. He retired as Superintendent of Schools in 2002
Joe's passion for International Service has taken him around the world. He has been a team member on 4 Guatemala Cleft Lip, Cleft Palate, burn repair surgery teams; on Wheel Chair Distribution trips in Mexico, Central America, and China; on a Polio National Immunization Day in Ghana; as a lead on a VTT of educators to train rural Chinese teacher; and on matching grant projects to Djibouti, China, Romania, Laos, Cambodia, Guatemala, and Mexico. As Major Donors, Joe and Kathi make The Rotary Foundation a priority.
Joe has a strong background of community activities including numerous community and professional boards and is a Senior Fellow in the Silicon Valley American Leadership Forum.
Joe and his wife Kathi reside in Cupertino. They have three grown sons and two high school-aged granddaughters.