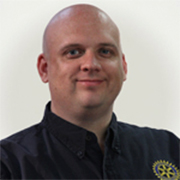 Corey Lopardi | New Club Task Force Chair
Corey Lopardi has been working in Media and Marketing for over 20 years. He is the owner of Pardiman Productions a media production company in Olympia, Washington.
He is chair of the Big West New Club Task Force, a Zone 27 Assistant Rotary Coordinator; and has served District 5020 as Membership Development Chair, Council Chair, Conference Co-Chair, Newsletter Editor, and PNW-PETS Training Leader.
Corey's Rotary areas of expertise include Satellite Clubs, Hybrid Meetings, Developing and Implementing Online Training and In-Person Workshops, New Club Formation Assistance, Building an Effective Membership Team & Plan, Rotary Leads, and Public Image.
He has been a member of the Rotary Club of Hawks Prairie for 13 years, serving as president in 2013-14. He is a multiple Paul Harris Fellow and Paul Harris Society Member. He lives with his wife Michelle in Olympia, Washington.