WHAT WE DO
The goal of your End Polio Now Zone Coordinators (EPNZC's) is to foster fundraising, advocacy, and awareness at the district level toward the achievement of a polio-free world.
HOW WE CAN HELP
Keeping District Governors, District Foundation Committee Chairs, and District PolioPlus chairs updated on the latest news and accomplishments in the fight against this disease.
Keeping Rotarians informed and inspired by speaking at Rotary meetings, conferences, institutes, and other appropriate functions, both in-person when able, and via virtual online meetings as well.
Sharing and informing leaders of available resources for educational purposes.
Promoting Districts' PolioPlus fundraising efforts by publicizing, and where possible, by direct participation (bike rides, runs, ice bucket challenges, etc.)
Encouraging Districts to collaborate and/or share fundraising ideas.
Acting as a resource for anything "polio" you may need. We are here to support you. Just ask.
End Polio Now Zone Coordinators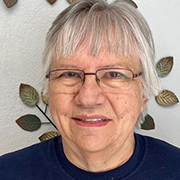 Marny Eulberg | End Polio Now Coordinator
Marny has been a member of the Rotary Club of Wheat Ridge, CO (District 5450) since 2011. She has served as club president (2015–16), as club secretary (2017– to present), and as District 5450 PolioPlus Committee Chair (2017 to present). She is a Paul Harris Fellow, Major Donor Level 1, member of the PolioPlus Society, and member of the Bequest Society.
Marny grew up in South Dakota, and graduated from South Dakota State University and the University of Arizona–Tucson College of Medicine. She is a mostly retired family medicine physician who founded a post–polio clinic in Denver in 1985 and she continues to consult with polio survivors. She has served and continues to serve on the board of directors for Colorado Post–Polio Organization and Post–Polio Health International. She is the founder of the Human Gait Institute, a non–profit organization, that provides education to potential and current users of leg braces (orthoses).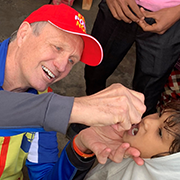 Mike Crosby | End Polio Now Coordinator
Mike is a member of the Rotary Club of Brentwood, California in District 5160. He is a past club president, Rotarian of the Year for his club, and past Assistant District Governor. He is a member of the PolioPlus Society, Major Donor for the Paul Harris Society, and a Bequest Society member.

In 2022 Mike was selected by Rotary International as one of 40 regional members worldwide who went above and beyond to help end polio. He and his wife (and Rotarian) Marsha Brown traveled to a slum area of India where they vaccinated children for polio and other diseases. Mike and Marsha later went to Uganda, where they delivered 265 wheelchairs to polio survivors and others in need.

Mike's life has been centered around service. He is an Eagle Scout and a life member of the International Fellowship of Scouting Rotarians. He is also a retired USAF Lt Colonel. He was a
the communications squadron commander, deputy Base Commander for Edwards Air Force Base, CA, and the Commander of the Air Force Production Flight Test Installation in Palmdale, CA.