The intent of the Zone 26/27 Governors Education and Training Program is to provide preeminent training in terms of teaching the 'how to' related to the Governor's year of service. Our objective is to prepare Rotary leaders for their responsibilities and service as officers of Rotary International. The educational system provides fundamental R.I. mandated training combined with elements unique to Zones 26 and 27.
The program commences with the training of District Governors Nominee (DGN) at the Governor Nominee Training Seminar (GNTS); continues through training as a District Governor Elect (DGE) at the Governor-Elect Training Seminar (GETS); through to the capstone of their training at the International Assembly; and ends with providing continuing education during the Governor's year in the Governor's Seminar.
Governors' partners are an integral part of the educational process and are integrated into all three seminars as well as a separate Partners Program.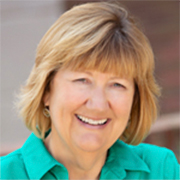 Barbara Redder | Governor Education Chair
Barbara, a member of the Casper Five Trails Rotary Club, served as District Governor of District 5440 during the 2016-2017 Rotary year.
Barb is currently serving as 2021 Education Week Chair for Zones 26/27, overseeing GETS, GNTS and Partner training. Barb served as Zone 26/27 GETS Chair in 2020 and successfully transitioned from an in-person education week experience to an entirely virtual experience for the 30 DGEs in the Big West Zones. Barb was a Zone 26/27 Big West GETS faculty member in 2019 and District Governor Best Practices Forum Facilitator. Barb was the 2018 Chair of High Country PETS and also served as a facilitator for the Rotary Leadership Institute.
Barb is an Area Manager Director for First American Title in Casper, Wyoming. As part of her professional career, she was selected as an Emerging Leaders facilitator for five years for First American Financial, a Fortune 500 company.
Barb initially joined Rotary in 2002 and has served as President of two different clubs including the Gillette Rotary Club in 2008-2009 and the Casper Five Trails Rotary Club in 2019-2020. Barb was honored to be selected as District 5440 Rotarian of the Year in 2013. As an Assistant Regional Rotary Foundation Coordinator from 2017-2020, Barb worked with Rotarians to help them to achieve their foundation goals of giving and service.
Barb is married to Don, a member of Casper Reveille Rotary. Barb and Don are Major Donors, Bequest Society Members, Paul Harris Society members and in their spare time they enjoy camping, fishing, golf and traveling.