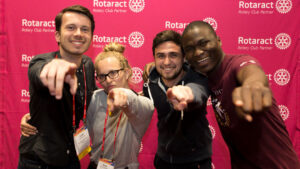 What is Rotaract?
Rotaract is a global movement of young leaders who are developing innovative solutions to the world's most pressing challenges.
How is Rotaract organized?
Rotaract clubs bring together people ages 18 and older to exchange ideas with leaders in the community, develop leadership and professional skills, and have fun through service. In communities worldwide, Rotary and Rotaract members work side by side to take action through service. From big cities to rural villages, Rotaract is changing communities.
Rotaract members decide how to organize and run their clubs, manage their own funds, and plan and carry out activities and service projects. Rotary club sponsors offer guidance and support and work with your club as partners in service. Rotaract clubs may be based in universities or in the community, and members are usually between the ages of 18 and 30.
To date, there are over 10,000 Rotaract Clubs and more than 200,000 Rotaractors worldwide.
What Rotaract resources are available in Zones 26 & 27?
Big West Rotaract Foundation is a 501(c)(3) non-profit organization that provides leadership training and education to students and young professionals in the Western Region of North America.
Since 2010, Rotaract clubs & districts from across Western North America have collaborated through projects and conferences. In 2015, leaders from these districts came together to form Big West Rotaract as a registered Multi District Information Organization (MDIO) of Rotary International. In 2019, Big West Rotaract Foundation was incorporated in the state of California and was recognized as a 501(c)(3) nonprofit.
Big West Rotaract offers resources, leadership training, and an annual conference to Rotaractors and Rotarians throughout the region.