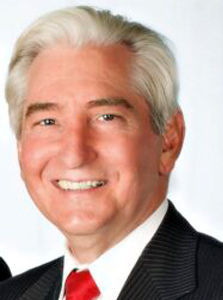 Daniel C. Himelspach | Rotary International Director-Elect 2023-2025 
Dan Himelspach was raised on a ranch in southeastern Montana and holds a BS in Chemistry from the SD School of Mines and Technology, a JD from the University of Denver College of Law and a Master Negotiation Certificate from the Program on Negotiation at Harvard Law School. Dan is the principal of Dispute Management Inc. located in Denver, Colorado.
Dan is married to Leslie Lawson, a former Denver District Court Judge. Dan and Leslie have two children, Mariah and Jonathan, who have participated in a wide variety of Rotary projects and events.
Dan joined the Denver Mile High Rotary Club in August 1993and has served in multiple leadership positions, including President for the Rotary Year 2005-06.Dan has traveled to and been instrumental in many of the Club's international and local projects. Dan was the Grants Subcommittee Chair for District 5450for three years. He served as District 5450 Governor for Rotary Year 2013-14.Dan trained the DGNs at the 2014Zone Institute. He served as the Zone 27 End Polio Now Coordinator for Rotary Years 2015-17and as Zones 26-27 Regional Rotary Foundation Coordinator for Rotary Years2017-20. Dan also served as a RI Council on Legislation Representative from 2017-20.
Dan is currently the RI Director Nominee and will serve as Director from Rotary Years 2023-25.
Dan is a member of the Paul Harris Society and the Bequest Society. He has been awarded several awards for his Rotary service including The Rotary Foundation Citation for Meritorious Service