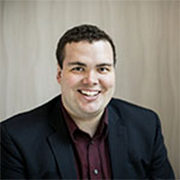 Joey Vaesen | General Secretary Big West Rotaract 
Joey began his Rotary journey as an Interactor in 2012 and is currently a member of the Rotaract Club of Victoria, British Columbia, Canada. Joey has served as Rotaract club president, district Rotaract representative, director of Big West Rotaract, founding president of his Rotaract club's foundation, Rotaract Moderator for the 2020 International Assembly and Special Advisor to the 2020-21 Rotary International Board of Directors. Currently, Joey serves as the General Secretary for Big West Rotaract, the Rotaract multi-district information organization (MDIO) that represents Rotaract throughout the west coast of North America.
Professionally, Joey works as the Senior Project Manager for the procurement of highway maintenance services for the Province of British Columbia, Canada. Joey supports The Rotary Foundation as a member of the Bequest Society and Paul Harris Fellow.