Step 2 – Updating Your Club Logo
How We Look
Update the Club logo so it is clear that we are Rotary, and part of something even bigger than our Club itself.
Before ordering anything new, be sure to update the logo and consider the new look and messaging. You don't have to throw away expensive printed items, but don't order anything new with the old visual identity or old messaging. Any item that is used digitally can be updated right away.
Think about all your Rotary Club collateral—brochures, newsletters, banners and flags, signs, shirts, hats, etc.
Items that can be produced digitally, can be updated now.
Our Rotary communications begin with the proper use of our logos, which is discussed in great detail here on the Rotary Brand Center. In this article, we will show you how to build your club, district, or program logo in less than five minutes with the Rotary logo template.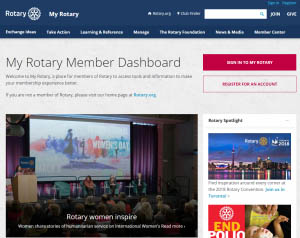 MyRotary.org is the gateway to "Brand Central" where RI has created numerous templates to help your club promote Rotary's brand. You will find easy to use templates for everything from business cards to brochures, and each template will allow you to customize.
For the writer who is unsure of how to write a press release, there are templates for that as well.
How to create an account on MyRotary.org:
Anyone can create an account and sign in. Existing Member Access users can re-register with their current user ID. For tips on registering and using the site, see our website resources. For assistance, contact us.
Once you have signed onto MyRotary.org look for the "Manage" navigation and you will find a menu of items to help promote your club to your community and the world.
Update Your Club Logo
Navigate to myrotary.org and Login
Go to the Brand Center
Choose "Logos"

Choose View under "Template"

Choose "Create"

You will now see the logo builder template like the image below:

Now all you have to do is complete the form on the right side and your logo will be formatted correctly.
"Save" your new logo and "name" it for later use.
The last step is to "download" it for the correct use as you see below.