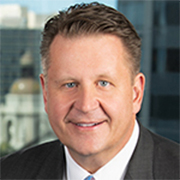 Scott Carr | 2023 Institute Chair
Scott Carr is a member of the Rotary of San Diego Downtown Breakfast, where he was first introduced to the club through his membership in San Diego Downtown Rotaract. He went on to join his Rotaract's sponsoring club as a full-time member, then serving as President in 2011-12. He had the honor of serving as Governor for Rotary District 5340 in 2017-18. He chaired Southwest Rotary President-elect Training Seminar (PETS) in 2021, training a record number of attendees in the first-ever virtual event in the 40+ year history of Southwest PETS. Today, he serves as Marketing Chair for the 2022 Rotary Zones 26/27 Institute in Salt Lake City, and as Zone 26 Promotions Chair for the 2023 Rotary International Convention.
Mr. Carr is the Marketing and Community Relations Director at Klinedinst PC, a growing mid-size law firm serving businesses and individual clients across the West. Through his expertise in digital marketing and communications, Mr. Carr trains Rotarians on public image, web design, content marketing, and social media. In 2010, he was honored with the Community Service Award by the San Diego Volunteer Lawyer Program (SDVLP). He also received the 40 Under 40 award in 2012 from San Diego Metro. In addition to his work with Rotary, Mr. Carr has served on the board of several organizations, including Sepsis Alliance and Friends of Balboa Park (today known as Forever Balboa Park). Together, Mr. Carr and his wife Heather are strong supporters of several charities, including the Rotary Foundation, Francis Parker School, ChangeLawyers (formerly the California Bar Foundation), San Diego County Bar Foundation, Lawyers Club of San Diego, the U.S. Marine Toys for Tots Foundation, and many other worthwhile organizations.