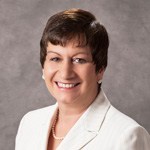 Lucinda General | Treasurer | Email
Lucinda General joined Rotary in 1990 in Hartford Connecticut. She was pleased and honored to become the first female Rotarian with Club Rotario de Rohrmoser, Costa Rica in 1993 and since 1996 is a member of the Rotary Club of Mesa West, Arizona.
Lucinda has served extensively in her club and districts. She led a successful membership drive for Mesa West that received district recognition. She has been honored as Club and District Rotarian of the year, presented with the Rotary International Service Above Self Award and was honored to serve several times as a Rotary International President's Representative.
District operations, club engagement and leadership development are intensely important to Lucinda. Her experience includes two terms as chair of Arizona Tri-District PETS, multiple years as a District Conference chair and as Group Study Exchange chair, service on the RYLA committee, faculty at Zone 25-26 GNATS, and vice chair for the 2013 Phoenix Zone Institute.
Lucinda presently serves in the following capacities; on her club's board, the Multi District PETS Alliance and West Coast PETS Alliance, as the Zone 25-26 Treasurer, the convener of Zone 26 Nominating Committee and continues to serve to strengthen District 5495. She has recently completed service as an Assistant Rotary Coordinator. Lucinda supports our Foundation as a Major Donor, Benefactor and Bequest Society member.
Lucinda is the owner of Simplified Expansions an office management and bookkeeping business. She and her husband Wayne live in Phoenix with Bella the softest cocker spaniel you will ever meet.