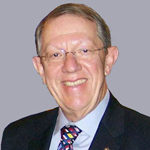 Vic Georgiou | Data Coordinator | Email
Vic and his wife Aurora met and married in North Carolina 54+ years ago and have lived 35+ years in Danville, California. Retiring after a career in Electrical/Electronic Field Engineering at GE, he and son Bob ran a sign and graphics business in Danville for many years. Along the way, Vic was active at the Museum of the San Ramon Valley, the Ellen Meadows Prosthetic Hand Foundation, and the Danville Chamber of Commerce which he chaired in 1999. He is the Treasurer and a past-President of his HOA.
Invited to Rotary for the first time in1992, he was an active club-only member before becoming president of Danville Rotary in 2005. He describes PETS as an eye-opener. Vic served as District 5160 Membership Chair for two terms, Lt. Governor and then Chief of Staff until 2015-16. Since then he titles himself the E-Guy, taking on special projects and supporting the Chief of Staff on backroom issues. During this period, he has participated in Rotaplast and LN-4 field trips.
A technical person by personality, Vic has established himself in the zone as the backroom support person for registrations, database lists, and related functions, also in coordination with the Zone Communications Officer, some website activity. Vic is honored by and grateful for the Rotary recognition he has received but prefers to display only his proud member pin.