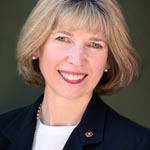 Wyn Spiller | 2019 Institute Chair | Email
Wyn is a past Governor of District 5190 (2008-09) and has served in a variety of Club and District roles since joining the Rotary Club of Grass Valley in 1994. She is the immediate past Zone 25 (now 27) Regional Rotary Foundation Coordinator, current District 5190 Rotary Foundation Committee Chair and Chair of the 2019 Rotary Institute in Denver.
Additional Rotary service includes Vice Chair and Communications Team member for Zone 25/26, 2016 Council on Legislation delegate, and enthusiastic member of the 2014 Sydney Convention Promotion Committee. Wyn and her husband Steve were honored to be Training Leaders for both the 2011 and 2012 International Assemblies, as well as RI President's Representatives on several occasions.
Wyn and Steve share a deep commitment to our Rotary Foundation and its humanitarian work, including a special interest in the Rotary Peace Centers and Polio eradication. They are Major Donors as well as Paul Harris, Bequest Society, and Triple Crown members.  Special 'hand on' highlights in the field include participating in a NID to India and humanitarian projects in Uganda and Mexico.  Wyn is the proud recipient of The Rotary Foundation's Citation for Meritorious Service.
Wyn retired as Chairman/CEO of Nevada City Winery in 2014. She and Steve have three grown children pursuing careers in Los Angeles, Austin and San Francisco.  The family loves traveling together, especially by catamaran.